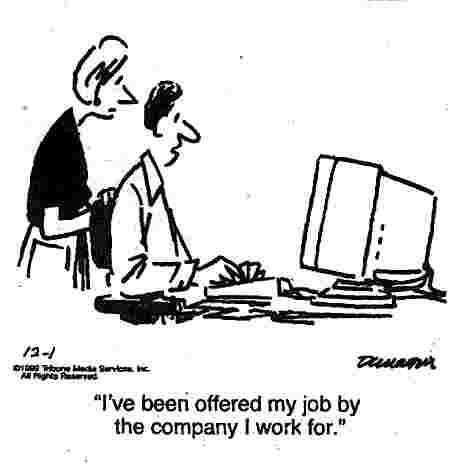 Job Security Working Overseas:
Is there any?
Yes and no. But, read on . . .
To a large extent it depends on the skills of your occupation, the employer you select and the country in which you decide to work.
The expatriate world is not really any different from working in your home country - there are excellent employers and there are shady characters you hope you never work for. So . . . just like back home - take your time and select your employer carefully.
It is up to you to create your "Security"
There are many people who will tell you that you should always consider yourself a "private contractor". That you should always think of yourself as working for yourself. Don't count on any one employer looking out for you or assuring your future. If you do, you will surely be as disappointed as the people who worked for Enron or Worldcom and a whole list of others.
Case in point: A good friend who worked for a university in Korea for over ten years, only to find that they had decided to implement a policy which would limit foreigners to THREE years. At first, he was told that they would "grandfather" him into his position - but the reality was that he had to leave. He had put down roots in the town where the school is - had made himself very comfortable in a good job - did his best every year for the students and school. Yet, after twelve years he found himself out the door.
Year-to-Year Contracts Overseas
Year-to-year contracts are the norm when working overseas and that should tell you something. Namely, that you should be prepared to hunt down a new job every year (but you won't really have to). Some jobs, in some countries offer longer contracts. Such jobs are not rare but they are not usually typical either. Though contracts tend to be year-to-year, many people work for many years with the same employer. If you do a decent job, you will usually be renewed.
It's not all that bad
The good thing about all this is that, as noted in the subheading at the top of the page, you will have to learn to create your own security and most of us out here in the expat world find a deep sense of satisfaction in building our own secure financial world independent of our employer(s). You won't find yourself in the same boat as the people who worked for Enron or Worldcom, or those who relied on defined-benefit retirement plans from some of the largest corporations in the world.
What to do - Where to find out more
Check out the pages of this website that discuss building a sound financial future while working overseas. Find out about medical plans independent of the minimal plans frequently offered by employers. Learn to take care of yourself - it's not a bad idea - it's a GREAT idea.
Really, who will look after your best interests better than you?
Not counting your mom and dad . . .